Went to the maillist archives and pulled this previous mail out. I'll do my best to bring you past weeks of "Get Up Get Down - The Set List". Whenever you see a minus in the title (-01) (-02) (-03) (etc) then you'll now it's pulled from the archives. If links are broken please let me know in the comments and I'll re-up.



Jean Grae ft Blacastan - Ahead Of The Game (prod Blue Sky Black Death)

Dope! This beat is from Blue Sky Black Death which I have no information about other than it's a Baby Grande release but BSBD remixed the Jeanius album and turned it into Evil Jeanius using Jean Grae lyrics from other songs(??). This beat is sick and it's one of my favourites from that remix album.



Jeff Spec & Lo Keynote - freE Press EP

Jeff Spec laced me with his new EP produced entirely by Lokeynote. It's been a minute since I've heard new music from this highly accomplished MC and it's good to hear him on the mic once again. Featured in Urb's Next 100 alongside fellow City Planner crew mates Moka Only, Sichuan, and Ishkan this Vancity MC has been pushing real weight for over 10 years.

Two major accomplishments to his credit include signing to Day By Day - home to label mates MF Doom, MF Grimm, Count Bass D and others - as well as signing to the major: Universal Records. With a new album set to drop later this year catch up with Jeff Spec with this "freE Press EP" with guest spots from the very talented Narai and as well as the very talented Omar. Remember to support homegrown talent - always!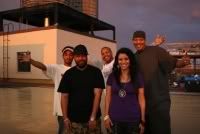 Dino 5 - What About 10
Bonus: Dino 5 - Theme Song (below)


Prince Paul is at it again. Legendary producer and hip hop hall of fame(r) put together this group of MCs to collectively form Dino 5.
What about 10 - this is super duper classic Prince Paul. In case you can`t tell from the rappin voices DiNO 5 is made of Prince Paul, Wordsworth, Charli 2na, Ladybug Mecca (of Digable Planets), and Scratch (of The Roots).


"Prince Paul teams up with some of hip hop's most celebrated MCs to create a pre-historic, preschool musical masterpiece. Part book on tape (narrated by Grammy winning poet Ursula Rucker), part Broadway show (the story was recently opted for a cartoon series!), the CD takes kids (and parents) on a music journey that tells the story of 5 best dino friends that come together to teach key life lessons and have fun. It's Three Feet High and Rising for the next generation."

More DiNO 5 goodness on Youtube



Kurious - Walk Like A Duck (full single)

Spell it with a J not with a G. This is Kurious' very first single and here it is in full glory. Kurious claimed instant underground fame with the release of this single as he come out strong for the Constipated Monkeys crew (which consisted of Beatnuts and KMD amongst others). Daam it's good to have this again.



Z-Trip - Obama Mix (Party For Change) | (radio friendly version also available for live air)

"I encourage you to download it and pass it along to anyone you think should hear it. Feel free to burn copies, share it with friends, family, co-workers, strangers, and especially anyone you know is on the fence about this election. I'm also putting out a radio friendly version, in case anyone wants to broadcast it."
Z-Trip



Mick Boogie, DJ Benzi, Neoteric - Motivation 2 hosted by Lil Jon (right click)

Motivation 2 is out and it features Neoteric getting up on it with Lil Jon hosting the daam thang. Big up Neoteric and good job. Cop that cop that.



Black Milk ft Pharoahe Monch, Sean Price, DJ Premier - The Matrix

DJ Premier on the beats and a posse cut of Monch, Sean P, and Black Milk!?!! Go get it.